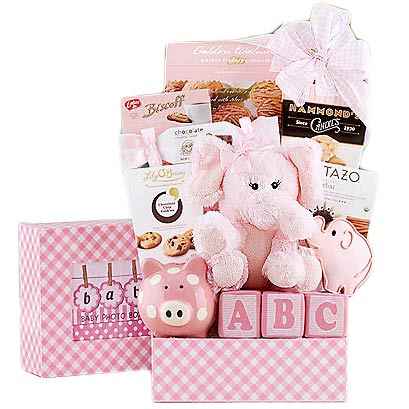 Oh Baby - Pink
Baby girl gift basket
Change Currency
Surprise mom and her new little girl with this precious gift. The pink plush baby elephant and soft, cloth blocks are perfect for small hands.
Delivery to
United States
Important Note
Please order 3 working days in advance. Not available for sameday & weekend delivery.
What's Inside
Carousel Chocolate Caramels 5pc,Golden Walnut Flavored Cookies 3oz,Hammond's Peanut Crunch 3oz,Lily O'Brien's Chocolate Chip Cookies 1.5oz,Lotus Biscoff Cookies 2pc,Tazo Organic Chai Tea 2bags,Baby Elephant Honey Vanilla Cookie 1.1oz,Piggy Bank,Baby Cloth Blocks,Photo Box Frame,Baby Plush Elephant 6"